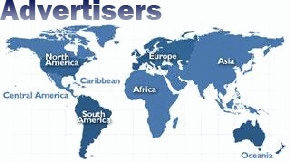 Ad targeting to North America, Central America, South America, Caribbean,
Europe, Africa, Asia, Oceania or ANY combination of these advertising zones.
NOTE: All ads will run worldwide until we have enough advertisers for rotation in all target zones.

Worldwide Banner Exchange | Worldwide Zones | Plugboard | Links Page | Site Map
All content Copyright © 2017 by Worldwide Banner Exchange. All Rights Reserved.

|

|

|

|

|

|

|